Socomec Netys RT 1100 rack 2U/tower UPS
Share
Socomec Netys RT 1100 rack 2U/tower UPS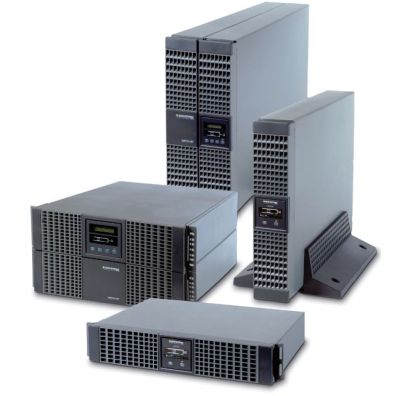 Socomec : Netys RT 1100 rack 2U/tower UPS
Socomec : Netys RT 1100 rack 2U/tower UPS
The NETYS RT 1100 rack 2U/ tower UPS is the complete solution for IT infrastructures. It is the solution for switching, storage, servers and networking devices, VoIP communication systems, structured cabling systems, control systems and Video surveillance systems
& Features
Simple to install
• IEC input and output connections (1100?3000 VA) or terminal input and output connections with built-in magnetothermal input switch (5000-11000 VA).
• Compact footprint for installation in rack cabinets.
• Attractive design.
Easy to use
• No configuration necessary on first startup.
• Wide range of communication protocols for integration into LAN networks or Building Management Systems (BMS).
• Clear LED interface with buzzers that immediately indicate the operating status of the UPS, even for less specialist users (1100?3000 VA).
• LCD display with menu available in 6 languages (5000-11000 VA).
Meets practical needs
• Online double conversion technology with sinusoidal waveform, completely filters out all disturbances from / to the mains power
supply and ensures maximum protection of the utility.
• Modular battery extension (EBM) to meet all back-up time requirements, even after installation.
• Possibility of 1+1 parallel redundant configuration to maximise the availability of critical utilities, even in the event of a module breakdown (5000?11000 VA).

Specifications
Online Double Conversion

1100VA

& Universal tower + 2U rack inc rail kit,

USB & RS232 comm's port & cable

Optional SNMP card available

6 x 10A IEC outlets, includes 3 pin Aust input cord + 1 x Aust output conversion cord & 1 x IEC cord
Standard and Option Features
Standard electrical features
• Built-in backfeed protection.
• Protection against atmospheric phenomena (NTP) for telephone / ADSL modems.
• RJ11 connection for Emergency Power Off (EPO).
• Connection for battery extension modules.
• Port for parallel operation (5000-11000 VA).
Electrical options
• 1+1 parallel module (5000-11000 VA).
• Manual bypass without interruption (5000-11000 VA).
• Battery extension modules.
Standard communication features
• LOCAL VIEW: ideal UPS monitoring and shutdown point-to-point solution for Windows® operating system.
• UNI VISION: software for the control and automatic shutdown of applications connected to Linux.
• UNI VISION PRO: advanced user interface via serial link and multiple shutdown management for several operating systems.
• HID: UPS management based on Windows® embedded service - USB interface (1100-3000 VA).
• MODBUS/JBUS RTU.
• RT-VISION: professional WEB/SNMP interface for UPS monitoring and shutdown management of several operating systems (5000-11000 VA).
Communication options
• RT-VISION: professional WEB/SNMP interface for UPS monitoring and shutdown management of several operating systems (1100-3000 VA).
• Dry-contact interface.
Technical Data
Connections
Connections
1. Mains input socket (IEC 320)
2. Fan
3. Output socket (full power)
4. Telephone / modem line protection
5. EPO (Emergency Power Off) input
6. RS232 interface (JBUS protocol)
7. USB port
8. Input protection
9. Output sockets (IEC 320 - 10 A)
10. Battery extension connector
11. Slot for optional communication boards
12. Battery extension connector
13. Output terminals
14. Input terminals
15. Input switch
16. RJ45 LAN ethernet connector
17. Parallel port connector
&
Warranty
2-year limited warranty.
Why 4Cabling?
Australia's leading importer & wholesaler of 19" server racks, copper, ethernet cable, fibre optic leads & structured networking products
ISO 9001, NSW Govt. & GITC (QLD Govt.) approved supplier
Secure online shopping 24/7
A loyal customer base of 100k+ who trust us for their data & electrical needs
Over 3000 quality products in stock ready to go
All products are approved as per local Australian standards
Warranty & peace of mind return policy
Lightning-fast delivery nationwide
Expert advice
Proudly 100% Australian owned & operated
Specifications
More Information

| | |
| --- | --- |
| SKU | 012.011.1100 |
| Connector A | IEC C14 (Male) |
| Colour | Grey |
| Warranty | 2 Years |