Metal Shelving 2000H x 2000W x 600D Bolted Set
Share
Metal Shelving 2000H x 2000W x 600D Bolted Set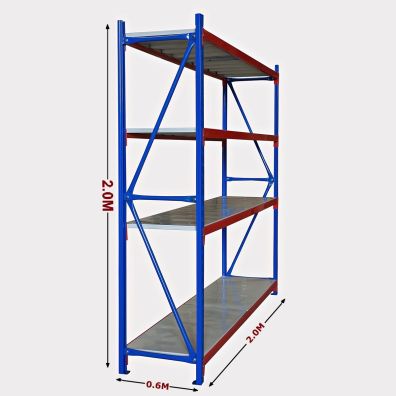 Metal Shelving 2m Long x 2m High x 0.6m Deep Bolted Set
We offer premium 2m Long x 2m High x 0.6m Deep Metal Shelving, which combines heavy lifting capacity with the convenience and versatility of light shelving units. Hence, exactly what many clients in Melbourne, Sydney, Brisbane, Perth and other cities have been asking for (based on our years of experience within the industry).
The blue metal uprights are not welded as our other shelving.

They require assembly using included bolts and nuts.

To tighten bolts and nuts, spanner maybe required (not included)

The Key to Organised Small and Big Spaces
A likely contributing reason for the high demand for self storage space (worth about $1.1 billion) is people running out of space due to poor organization and using bulky storage equipment. This 2000H x 2000W x 500D Metal Shelving solves both issues at once:
the slim, yet super strong structure easily fits into small spaces and accommodates bulky goods
organising is easy when you have such a modular structure that can stretch, expand and contract to you needs
Strong = Safe
Each shelf is strong enough to hold 100kg (meaning it won't buckle in case you climb up the shelf), with an overall 400kg capacity. Furthermore, thick shelf panels with back support completely eliminate all weak points. Moreover, bolts attaching the horizontal beams to the upright posts keep it all together when moving around.
Modular: No Need for Super-Powers to Shapeshift
The ingenious modular design lets you instantly change your storage layout. Certainly you will love this if you're a DIYer. So:
Increase or decrease the space between shelf panels
Remove the shelf panels to conveniently store such things as car tyres
Click to Install
You don't need a manual to:
click in the horizontal beams to the upright posts
fit the white shelve panels in between the horizontal beams
All-Round Application
This versatile 2m Long x 2m High x 0.6m Deep Metal Shelving keeps your stock/goods organized, anywhere:
warehouse
retail storage
garage/shed e.g. storing your autolift
home storage
school
library
IT departments in banks, media and other firms
storage or logistics environments
any area requiring general storage
Even when your needs change, business grows or stock diversifies; you don't need to change your shelving - simply configure it.
Why You Need It
This strong and long-lasting metal shelving turns you recurring storage cost into a one-off cost; unlike the cheap galvanised stuff or other rudimentary alternatives that may require replacement at the most inconvenient time.
Don't worry, the powder coated metal withstands scratching, chipping, wearing and fading. It will still look as good as new through the years.
Value for Money
Get it from us at a very affordable price, with a 2-year warranty or contact us if you have any queries. Also,we supply quality products to such reputable organizations as Monash University; The University of Queensland; and Melbourne Airport.
Metal Shelving Features
2.0m (height) x 2.0m (width) x 60cm (deep)
Easy to assemble
Colour: blue upright posts, orange horizontal beams and white shelf panels
Versatile storage system for non-palletised goods
2-year warranty
Can be constructed for general storage applications
Racks are supplied FLAT PACKED in a heavy-duty box for easy transport
Holds up to 100kg weight per shelf
Holds a total weight of 400kg
Height of shelves can be easily adjusted
Powder coated
slim yet super strong structure
meets all quality safety standards
removable shelf panels
click-in and bolt attachment for horizontal beams to upright posts
Specifications
More Information

| | |
| --- | --- |
| SKU | ZM-2000-600-2000 |
| Manufacturer Part# | ZM-2000-600-2000 |
| Warranty | 2 Years |